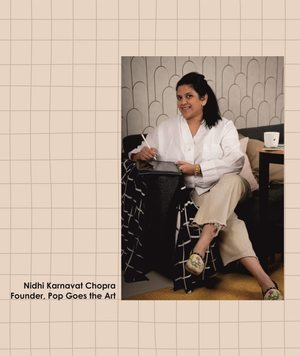 ABOUT PGTA
Pop Goes the Art is a Children's Lifestyle label established in 2008. PGTA (as it is lovingly known) has evolved over the last decade, positioning itself as a leading brand in the kids' space.
The brand differentiates itself on its high design value, unique aesthetic style, unparalleled quality, and commitment to creating unisex, gender agnostic products.
Pop Goes the Art's mission is to break the norm and monotony with its products. Every creation is unisex – breaking the gender barrier, and styled to appeal to grownups – smashing the 'age-appropriate design' cliché.
ABOUT THE FOUNDER
Nidhi Karnavat Chopra has always believed in the transforming power of the aesthetic experience. In 2008 she applied her passion for art, design and colour to create the children's lifestyle label Pop Goes the Art.
The brand was born in response to her observations that the children's lifestyle space was filled with stereotypes and regressive gendered thinking. Cars for boys and rainbows for girls, pink vs blue are just a few of the tropes that flood this space.
A young mother herself, she is determined to change this and enable both parents and children to break free of these restrictive definitions and labels. Who says that only boys enjoy dinky cars or that blue robots can't be a girl's favorite toy.
Nidhi knows that children learn through play and believes that we must give our children an unbiased upbringing, fuel an active imagination and allow for lateral perspectives.